History
Oswego Fire Department History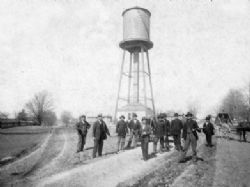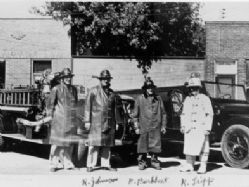 The Oswego Volunteer Fire Protection District began as a village fire department after a fire that destroyed the Congregational Church in Oswego in 1893. On July 17, 1895 the village purchased a hose and hose cart, and by August 28 of the same year, a fire company was formed. A hose house was added to the town council house at 65 Washington Street in June of 1897. In 1898 a bell was placed in a tower atop the house to signal the fireman for a call. This bell is now in front of Station 1 on Main Street in downtown Oswego.
Following a devastating fire that destroyed several buildings at a local farm, area farmers decided something had to be done to protect their interests. In 1936, the Oswego Fire Protection District was formed by voter referendum, covering all of Oswego Township and part of Will County. The district now also covers the majority of Na-Au-Say Township and a portion of Bristol Township. Andrew Pierce, Glenn Leigh, James Steward and Wally Davis were appointed the first commissioners.
Origin of the Maltese Cross
History of the Maltese Cross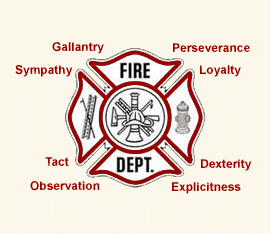 The Badge of a Fire Fighter is the Maltese Cross. The Maltese Cross is a symbol of protection and a badge of honor. Its story is hundreds of years old.

When a courageous band of crusaders known as The Knights of St. John fought the Saracens for possession of the holy land, they encountered a new weapon unknown to European warriors. It was a simple, but horrible device of war. It brought excruciating pain and agonizing death upon the brave fighters for the cross.

As the crusaders advanced on the walls of the city, they were struck by glass bombs containing naphtha. When they became saturated with the highly flammable liquid, the Saracens would hurl a flaming torch into their midst. Hundreds of the knights were burned alive; others risked their lives to save their brothers-in-arms from dying painful, fiery deaths.

Thus, these men became our first Fire Fighters and the first of a long list of courageous men. Their heroic efforts were recognized by fellow crusaders who awarded each hero a badge of honor - a cross similar to the one fire fighters wear today. Since the Knights of St. John lived for close to four centuries on a little island in the Mediterranean Sea named Malta, the cross came to be known as the Maltese Cross.

The Maltese Cross is our symbol of protection. It means that the Fire Fighter who wears this cross is willing to lay down his life for you just as the crusaders sacrificed their lives for their fellow man so many years ago. The Maltese Cross is a Fire Fighter's badge of honor, signifying that he works in courage - a ladder's rung away from death
History of the Star of Life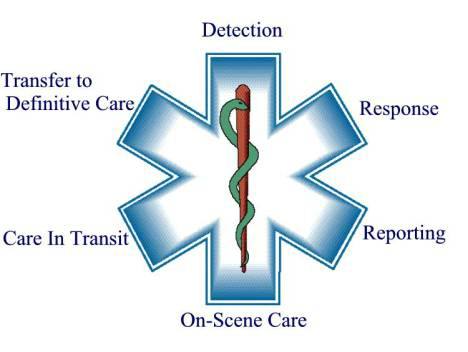 Just as a pharmacists has the mortar and pestle and doctors have the caduceus, Emergency Medical Technicians have a symbol, its use is encouraged both by the American Medical Association and the Advisory Council within the Department of Health, Education and Welfare. The symbol applies to all emergency medical goods and services which are funded under the DOT/EMS program.

Designed by Leo R. Schwartz, Chief of the EMS Branch, National Highway Traffic Safety Administration (NHTSA), the "Star of Life" was created after the American National Red Cross complained in 1973 that they objected to the common use of an Omaha orange cross on a square background of reflectorized white which clearly imitated the Red Cross symbol. NHTSA investigated and felt the complaint was justified.

The newly designed, six barred cross, was adapted from the Medical Identification Symbol of the American Medical Association and was registered as a certification mark on February 1, 1977 with the Commissioner of Patents and Trade-marks in the name of the National Highway Traffic Safety and Administration. The trademark will remain in effect for twenty years from this date.

Each of the bars of the blue "Star of Life" represents the six system function of the EMS, as illustrated below: The capitol letter "R" enclosed in the circle on the right represents the fact that the symbol is a "registered" certification.

The snake and staff in the center of the symbol portray the staff Asclepius who, according to Greek mythology, was the son of Apollo (god of light, truth and prophecy). Supposedly Asclepius learned the art of healing from the centaur Cheron; but Zeus - king of the gods, was fearful that because of Asclepius knowledge, all men might be rendered immortal. Rather than have this occur, Zeus slew Asclepius with a thunderbolt. Later, Asclepius was worshipped as a god and people slept in his temples, as it was rumored that he effected cures of prescribed remedies to the sick during their dreams.

Asclepius was usually shown in a standing position, dressed in a long cloak, holding a staff with a serpent coiled around it. The staff has since come to represent medicine's only symbol. In the Caduceus, used by physicians and the Military Medical Corp., the staff is winged and has two serpents intertwined. Even though this does not hold any medical relevance in origin, it represents the magic wand of the Greek deity, Hermes, messenger of the gods.

The Bible, in Numbers 21:9, makes reference to a serpent on a staff: "And Moses made a bronze serpent and set it on the standard; and it came about, that if a serpent bit any man, when he looked to the bronze serpent, he lived. (NAS)

Who may use the "Star of Life" symbol? NHTSA has exclusive rights to monitor its use throughout the United States. Its use on emergency medical vehicles certifies that such vehicles meet the U.S. Department of Transportation standards and certify that the emergency medical care personnel who use it have been trained to meet these standards. Its use on road maps and highway signs indicates the location or access to qualified emergency care services. No other use of the symbol is allowed, except as listed below:

States and Federal agencies which have emergency medical services involvement are authorized to permit use of the "Star of Life" symbol summarized as follows:

- As a means of identification for medical equipment and supplies for installation and use in the Emergency Medical Care Vehicle-Ambulance.
- To point to the location of qualified medical care services and access to such facilities.
- For use on shoulder patches worn only by personnel who have satisfactorily completed DOT training courses or approved equivalents, and for persons who by title and function administer, directly supervise, or participate in all or part of National, State, or community EMS programs.
- On EMS personnel items - badges, plaques, buckles, etc.
Books, pamphlets, manuals, reports or other printed material having direct EMS application.
- The "Star of Life" symbol may be worn by administrative personnel, project directors and staff, councils and advisory groups. If shoulder patches are worn, they should be plain blue "Star of Life" on a white square or round background. The function, identifying letters or words should be printed on bars and attached across the bottom separately. The edges of the basic patch and functional bars are to be embroidered.
Special function identification and physical characteristics must be adhered to when applying the "Star of Life" to personal items, as follows:

a) Administrative and dispatcher personnel must use a silver colored edge, and the staff of Asclepius should be with a silver colored serpent. These items do not need a white background.

b) The shoulder patches and other EMS patches may be displayed on uniform pockets and the symbol can also be placed on collars and headgear.

This article was taken from Rescue-EMS Magazine, July-August 1992

Each of the six "points" of the star represents an aspect of the EMS System.

They are:

1) Detection
2) Reporting
3) Response
4) On Scene Care
5) Care In Transit
6) Transfer to Definitive Care

The staff on the star represents Medicine and Healing
Saint Florian
Saint Florian--Patron Saint of Firefighters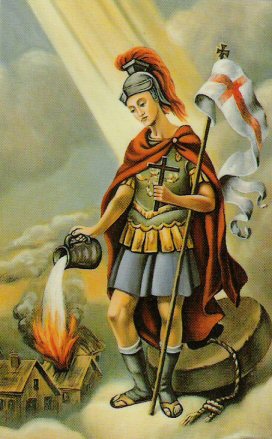 All firefighters are aware that Saint Florian is the patron Saint of firefighters. Many have purchased and are very proud to wear the Saint Florian medallion around their neck. These medallions are usually gold and many are shaped in the form of a Maltese cross with the image of Florian stamped in the center of it. If you ask who Florian was or why he is our Patron Saint, most firefighters don't know. They assume it is because he made some heroic fire rescue or maybe he was a priest who was involved in the fire service. These answers are the typical response but neither is accurate.
Florian was a Captain in the Roman army. He was a brave soldier and a tenacious fighter. Rome recognized the danger of fire and was the first to employ a fire department. This first fire department was made up of slaves. They had no real desire to risk their lives battling the flames of their captors. Rome desperately needed fire protection. They called on Captain Florian to organize and train an elite group of soldiers whose sole duty was to fight fires. Captain Florian indeed organized such a group. They were highly trained and very successful at protecting Rome from fires. A brigade of firefighters followed the army and provided fire protection at their encampments. These firefighters were highly respected and easily recognized. They wore the traditional Roman soldier uniform except the skirt was green. The most famous picture of Saint Florian depicts him with a young boy pouring water from a pitcher onto a fire. This picture if seen in color reveals this green skirt.
Rome was very impressed by this young Captain and all that he had accomplished. They decided to reward him by making him a general. Generals were often given large tracks of conquered land to govern. The only rules were that they had to enforce the laws of Rome and collect the taxes. Florian's area included almost all of Poland. Rome began to hear some rumors about the way Florian was governing his land. It was reported that he was not enforcing Rome's law forbidding Christianity. Rome did not believe this, but they did sent investigators to check. They reported back that it was true. Rome sent a group of soldiers to confront Florian. They warned and threatened him that he must enforce the laws of Rome and abolish Christianity. Florian not only refused he confessed that he had embraced the faith and become a Christian himself. Rome was furious. They tortured him and demanded he renounce his faith. Florian steadfastly refused. Rome ordered his execution.
Florian was to be burned at the stake. Soldiers marched him out and secured him to the post. Villagers gathered around to witness the execution. Florian begged his executioners to build the fire higher. He implored them to light the fire so his soul would rise up to heaven on the smoke from the blaze. The soldiers had never seen this kind of reaction from a person about to be burned alive. They were frightened. What if his soul did rise up, right in from of all the villagers? They could not afford a martyr. The fire was not lit. Florian was taken away by the soldiers who decided to drown him. He was placed in a boat and rowed out into the river. A millstone was tied around his neck and he was pushed over board and drowned.
After his death, people who were trapped by fire reported that they invoked Florian's name and his spirit delivered them from the flames. These occurrences were reported and documented many times. Florian was confirmed a saint for his commitment to his faith and the documentation of his spirit delivering trapped persons from the flames.
It is only fitting, that firefighters, committed to their duty, and instilled with the spirit to dedicate themselves to the protection of life and property, should choose such a man as their patron saint.



Page Last Updated: Dec 17, 2009 (18:49:00)